Affiliate Program at Gold Essays: How to Earn Financial Bonuses?

Affiliate Program at Gold Essays: How to Earn Financial Bonuses?

Introduce our company Gold Essays to your friends and classmates and grab an opportunity to earn bonuses. With every purchase that your friends or classmates make, you get a 10% bonus to your orders. Besides, those people who purchase a paper from our company upon your recommendation will get a first-time discount.
When you become a member of the affiliate program at Gold Essays, you will have a perfect chance to earn bonuses and be able to place your own custom orders at a significantly lower price. Interested in how we work? When you advertise our company to your friends and they start ordering from us after your recommendation, you will be given a 10% bonus for the orders placed by them. From each newly placed order from the customer referred by you, our company administration will provide you a bonus. To gather bonuses, you will have to register on the website since the bonuses will be stored in your account. If you are interested in participating in our company's essay affiliate program, you should first of all register your own account. Then you will get a unique promo code generated by the company's website automatically so that you could send this link to your friends, class mates or group mates via email or some social media networks. The more people purchase an order after clicking the promo code, the more bonuses you will get. Try to send the link with the promo code specifically to those people who can be our potential clients and who are likely to be interested in custom writing services.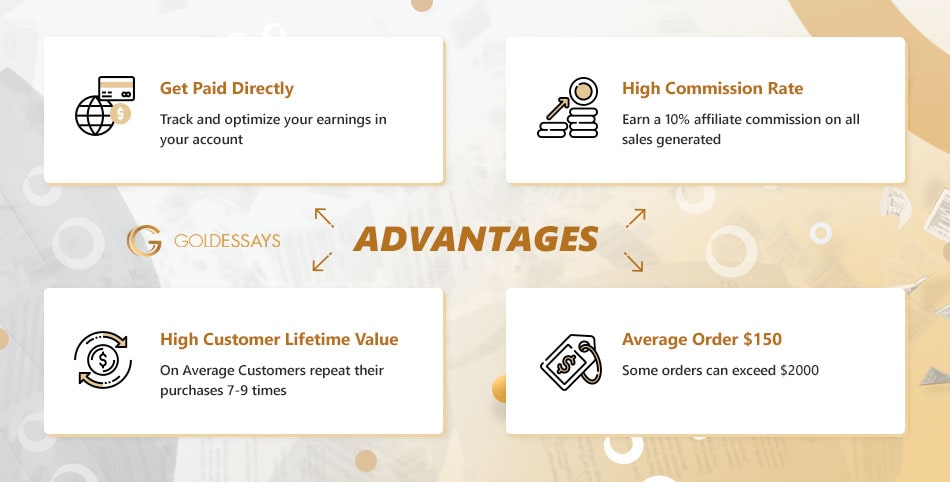 If you are a seasoned member of the affiliate program at Gold Essays and have reached at least a hundred sales, you will enjoy special offers, such as:

An average price for the order becomes $110.
An average commission per order is $11.
An average payout becomes $420.
Payouts can be made now on demand.
Members of the affiliate program can withdraw the bonuses in the form of money.
Round-the-clock customer support service.
If you want to join our affiliate program at Gold Essays, you can do it without any troubles. The process of registering for the affiliate program is simple. First, you just have to register on the website. Second, you need to send the link with the promo code to people who are potentially interested in buying custom writing services. After these people place an order on our website after clicking the link, a 10% bonus will be sent to your account. So, do not miss this fantastic opportunity to have such a great passive income without spending a lot of efforts.
How Does Our Affiliate Program Essay Service Work?

Log into your personal account and click the «Affiliate Program» button.
The system will generate a promo code automatically.
You will need to copy that link and send it out to your friends or group mates via social media networks or some other messengers.
As soon as the person who receives the message from you clicks the link and places the order, you will get a discount and a bonus will be added to your discount.
The person ordering a paper from us upon your recommendation will get a first-time discount.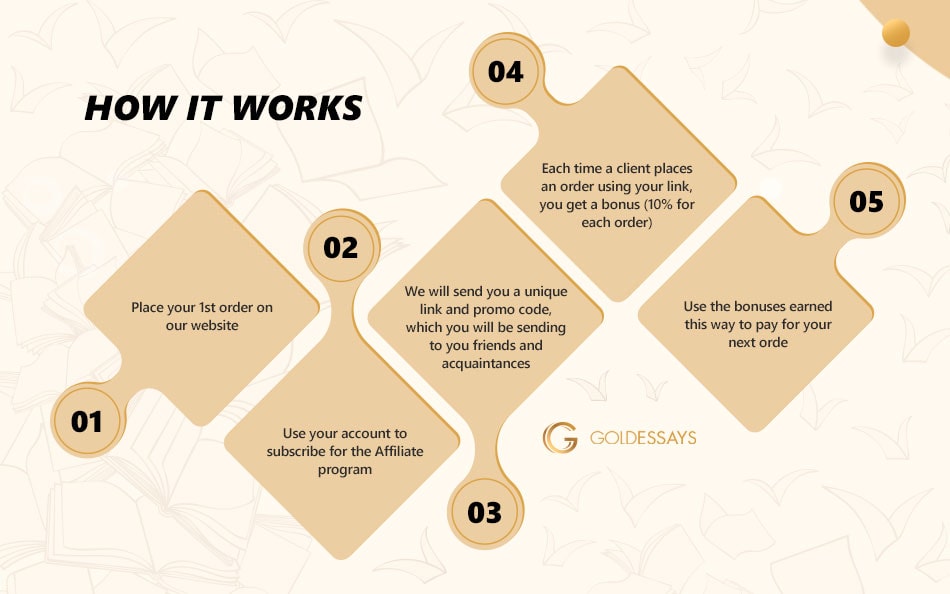 You can also make this process even less time-consuming by applying the automatic settings of sending the promo code. You just need to provide the emails of those people who are interested in custom writing services in a specific section entitled «My friends emails». As such, the affiliate link will be automatically sent.
How You Can Use the Gathered Bonuses?

If you have gathered a lot of bonuses, you can use them to pay for the orders you want to place with us. Specifically, you can provide a partial payment with money and bonuses. Another option is that you can withdraw the bonuses from your account, where one bonus = one dollar. When you are choosing the option to pay for the order partially with bonuses, you need to specify how many of them you want to be withdrawn from our account.
If you are looking for some great way to get a passive income, do not hesitate and become a member of our affiliate program.

Our customers love what we do
We have more than 4,500 satisfied customers. They come back and order more
This is my first time with the program and Tyler from support helped me with all gjgj. Thank you very much.
So far my experience has been great! Pretty easy to set up, excellent communication!