A Case Study on Hult International Business School

Introduction

Organizational change is significant due to the nature of rapid development of technology and progress. Every organization is striving to remain relevant in the wake of stiff competition and the manner in which business processes are changing. The application of technological changes has made the idea of organization change to be inevitable among all organizations. Globalization is turning the world into a small village where potential buyers can easily meet in virtual locations via the Internet. Technology has made it easy for the organization to cope with changes and modify the existing organization cultures without necessarily doing away with the core functions of the said organization.
In the context of rapid globalization process and increased paces of competition among organizations at an international level, modern companies should be able to quickly adjust to changes. The nature of change is primarily predetermined by economic downturns, political conditions, and social environment in which a business organization is placed. Therefore, any company operating within a global context should have sufficient strength and potential to manage changes efficiently. What is more important is that any company must reconcile with the change trends to cope with such issues as cultural diversity, global competition and current aspects of social corporate responsibility (Jung 5).
According to Paton and McCalman,, "from an organization development perspective, organizations are about people, about their development, enhancing their performance and building the organization on that performance" (171). In this respect, the concept of change is premised on constant development and growth, seeking to eliminate barriers to gaining a competitive advantage over other organizations. Essential role of change management in an organization is associated with external and internal processes (Paton and McCalman 171). The latter covers such aspects as employee culture, business ethics, and training programs, whereas external aspects touch on global competition, international relationships, and adjustment to new standards. To support the idea, Abbas and Asghar insist, "organizational change is the demand of a time, for sustainable success and leader/leadership can play a key role in bringing and implementing these changes" (1). All these approaches to change management contribute greatly to awareness of the necessity of implementing ongoing changes to adjust to a vividly developing global environment.
The necessity to implement changes concerns the Hult Internal Business School (HIBS), as well. Operating at an international level, the HIBS is aimed at training business managers from developing countries (Hult International Business School n. p.). It accepts students from all over the world and cooperates with leading business schools all over the world. It is located in Boston, San Francisco, Dubai, London, Shanghai, New York, and Sam Paulo (Hult International Business School n. p.). All these locations are economically, culturally, and politically diversified, which requires the school administrators to tackle the issue of change management seriously in order to act efficiently at an international level. According to mission and objectives of the school, "[it] encourages personal growth, intellectual integrity, global sensitivity, local engagement, and civic values" (Hult International School n. p.). In this context, HIBS students will be able to prosper in a global context and are properly motivated to contribute to both business and community. The international school is currently engaging in cultural exchange and academic rotational programs so as to give students an opportunity to interact with others in different locations all over the world. This organization change perspective entails a yearly selection of students from all departments in the school to go and study in other universities. This program aims at enriching the students' experience with convergent study approaches and, at the same time, expose students to diverse study environments in other schools.
Research Objectives

With regard to the above-presented background information on the educational establishment at issue, a number of research objectives have been presented:
To estimate critical success factors in implementing change management strategies in HIBS;
To define change management perspectives in HIBS that contribute to global expansion;
To highlight major challenges in implementing change in HIBS;
To propose recommendations for improving the change management in HIBS
Research Questions

With regard to the above-presented research objectives, the research questions will seek to define the aspects of change management in the context of the school's global expansion and international culture development:
What are critical determinant factors of changing culture and the effective strategies in managing that change in HIBS?
What are major challenges to implementing change strategies in HIBS?
How can change management perspective contribute to the development of HIBS's organizational goals and objectives?
What are the recommendations for improving and managing change in the organization?
Research Rationale: Personal and Academic Perspective

Understanding theoretical frameworks in change management is essential, but the practical side is far more important. In this respect, HULT International Business School operates in numerous countries with various cultural, political, and social backgrounds. It is vital for the organization to consider the external and internal factors in implementing change strategy to cope with the cultural and global challenges. Therefore, the necessity of introducing change strategies in HIBS can contribute greatly to higher quality of education and greater cultural sensitivity.
Literature Review

The Concept of Change Management

According to Paton and McCalman, the definition of change depends on a spectrum of factors, including objective clarification, performance indicators and nature of information, diagnostics and system analysis (22). At this point, in order to implement a change, it is vital to understand its contextual background. Therefore, the definition of change is hard to define because of many aspects that it covers. Reiss focuses on four dimensions of the complexity of change concept, such as multiplicity, diversity, ambiguity and dynamics (4). The relations between the four aspects are associated with the production process, employee relations, and organizational culture. Under these circumstances, the ratio of prevalence of either of the factors might differ. For instance, multiplicity refers to a multi-objective nature of organizational goals that seeks to generate confrontation between these goals. Therefore, conflict could be the cause of unstable and dynamic nature of the production. At the same time, ambiguity can stabilize the situation. Further, dynamics is highlighted in relation to its variety, leading to continuous improvement and change.
Organization change is a necessary evil; it assists organizations at pace in achieving the global competitive edge. Different drive factors are responsible for the introduction and management of change in various organizations. In some organizations, top management will start to modify organization culture so as to promote interpersonal relations in the organization. This is conducted with the possibility of doing away with redundant functions within and outside the organization. New functions are there to replace the old ones and this will improve change aspects in the organization. The need to embrace change is to get rid of redundant functions in the organization and this will be a cost saving strategy in those organizations.
In general terms, Harigopal identifies change as "to make or become different give or begin to have a different form" (26). In a specific sense, change also implies withdrawal of the old belief and acceptance of the new one. Dissatisfaction with previous outlooks can be connected with the pitfalls of the current management system, which should be reconsidered to comply with the current trends. Deficiency also refers to the failure of a system to react to environmental challenges and technological influences. Change undermines a different approach to thinking, perceiving, and behaving to overcome the past strategies and accept the present ones (Harigopal 27). Additionally, the concept of change can be estimated from two perspectives. First, change could be presented as continuous improvements in an organization that are aimed at stability and sustainability. At this phase, change acquires intrinsic phenomenon. The second perspective implies that change is an extrinsic and discontinuous phenomenon. In this context, organizations are perceived as stable structures, in which change has a destructive effect that makes organization restructure through efficient strategies.
With regard to a sophisticated nature of change, managing change is the primary task of any international organization. Burnes argues that change management is associated with numerous approaches to organizational theory and practice (57). In this respect, the author singles out the Classical approach to managing change in organization, according to which this approach premised on managing scientific and technological changes in an organization. To support this idea, Reiss states, "the essence of change management…is to create a change-friendly context of all change processes" (5). The concept of change management serves as a building block for all organizational activities. As a result, both change and management of change are critical factors of organization's success. Additionally, Reiss emphasizes multiples frameworks in which change management is engaged, including technological innovation, business relationship management, growth, downsizing, crises, mergers & acquisitions, diversification, and turnaround (6). Covering all facets of change management help managers and leaders embrace the sophisticated nature of strategies they should implement to adjust to external and internal changes.
Harrington agrees with Reiss and Harigopal and focuses on the complex nature of change management. Specifically, such aspects as process, people, technology, and knowledge are considered to be the main pillars of successful organizational change (Harrington 6). In the context of change management, Harrington considers three phases of performance change management. First, it is necessary to define how an organization should identify change. This phase starts with estimation of the present situation, development of a vision statement of key business factors and performance improvement objectives, and defining the acceptable behavioral patterns. The second stage focuses on what an organization should do to introduce change.
Reasons for Introducing Change Programs

Different factors and drivers will assist in managing change in an organization. The first driver is dealing with culture and resultant leadership issues in the organization. The managers ought to move from restrictions, control and measurement of performance perspectives to the idea of embracing team work; this will increase employee participation in the management of the organization. The managers ought to learn how to come up with new and unique business culture which will assist the organization in growing. In addition, it is prudent to substitute trust for control as this will enable the workers in the organization to realize their potential and respond positively to change. The core business of the organization needs to be re-engineered so as to make potential customers desire focus in line with the organizational culture both in the short and in the long run. It is also advisable to create a learning culture in the organization in order to commit staff members to the achievement of organizational values and cultures in the long run. Another driver is the setting up of health bench marks to propel the organization to action teams in the fastest time possible. The learning curve experience will go hand in hand with the proposition to ascertain the potential within and beyond the organization. Workers will start initiating solutions to respond to the organizational challenges.
Strong commitment to organizational objectives and mission could be carried out through regular introduction of change programs for the personnel to recognize the challenges and adjust to a constantly changing external environment. As such, multiple international companies and corporations regularly resort to program change method to overcome challenges and develop highly competitive frameworks to operate in a global context efficiently. For instance, Hiatt and Creasey assert, "effective change management programs will engage employees early in the process, focus on results and effectively integrates employee feedback into the business solution" (33). Thus, the task of a change management team consists of preparing a coaching strategy to provide effective training plan that will emphasize an individual approach. The main aspect of efficient programs is establishing the foundational knowledge about change. These training procedures will create a ground for developing change programs.
There are many conditions and underpinnings that either enhance or discourage successful program implementation. In this respect, Milosevic, Martinelli, and Waddel note that successful implementation of change programs could be carried through "establishing a fast track process for time sensitive decisions and defining change management protocols to drive desired behaviors" (231). To enlarge on this issue, a fast-track change process implies that all change issues must be reconsidered and assessed in a timely manner to reduce the probability of creating unnecessary obstacles to program implementation. Additionally, a fast-track process seeks to foster the change management process during critical decision making. In contrast, the adoption of change management protocols exemplifies how shifts could be addressed as soon as the program is introduced. The main objective of the protocol is to enhance the function of change management in the most efficient way.
The case presented in the studies by Klarner and Raisch shows the positive correlation between implementation of change programs and performance management (160). In particular, the researchers place an emphasis on the evident benefits of implementing change in terms of insurance of greater stability and reinforcement of knowledge within an organization. Along with other research studies, this one focuses on the practical benefits of change management in relation to organizational performance.
Models of Change Management

There is a vast variety of models of organizational change that are based on the political environment, mechanisms, employee culture, and transformation styles, such Lewin's change model, Kotter's eight steps model, Backhard and Harriss formula of change, etc. (Cameron and Green 120). To begin with, Lewin's change model is considered the most popular among other approaches to managing change. It consists of three stages – unfreezing, movement and refreezing. Te first step implies a deep reconsideration of previously existing problems in an organization. According to Kritsonis, "unfreezing is necessary to overcome the strains of individual resistance and group conformity" (2). The second stage refers to the process of movement, within which change in behavioral patterns is indispensable for achieving a new level of balance. Finally, refreezing is the third level of change, which needs to be implemented to ensure sustainable development of an organization across time (Kritsonis 2).
Kotter's model of change is much more detailed as compared to Lewin's one because it focuses on eight phases of introducing change.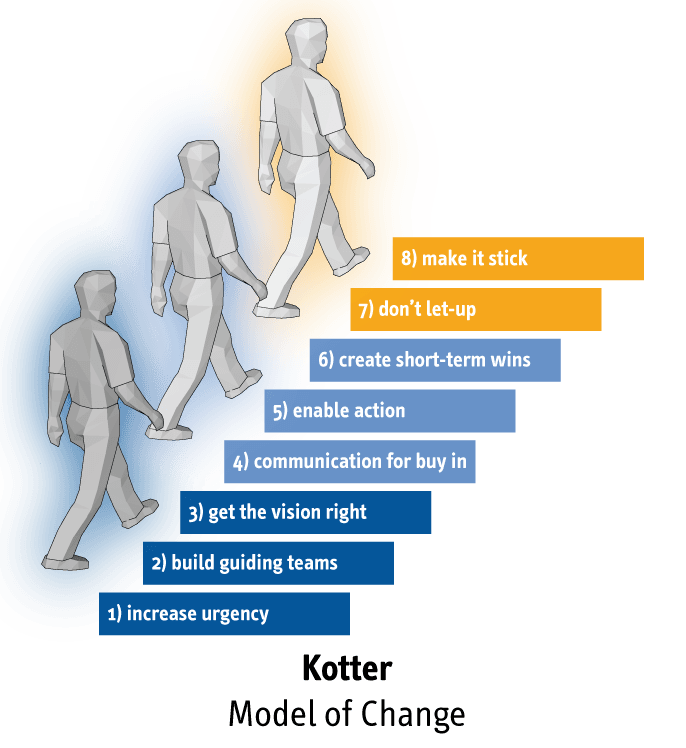 According to this model, an organization should first integrate a sense of urgency in an organization to make employees aware of the seriousness of the situation. Second, change efforts should start with creating a powerful guiding team that will be able to monitor all changing processes (Kotter 51). Third, change management model must be based on a specific vision that would ensure effective transformation. Further, articulating the vision and empowering others to adhere to are two next stages that need to be addressed in Kotter's change model (Kotter 86). Sixth and seventh stages plan development and consolidating strategies of introducing change. Finally, the change model ends with institutionalizing new approaches and visions within an organization.
Before implementing changes, managers should be aware of the circumstances and conditions that are necessary for introducing new approaches and strategies to an organization. In this respect,
Beckhard and Harris proposed a formula of change. All these aspects are essential for developing a strong framework for fighting with organizational problems.
Responding to Change

In a contemporary business environment, managers should be able to recognize external challenges and respond to them by responding effectively to change. According to Gurvis and Calarco, leaders often fail to realize the importance of facing and managing changes because long-term existing approaches have been efficient and successful. In fact, narrow-focuses and shallow approach to managing organization can lead to serious problems. Specifically, resistance to change could result in the inability of an organization to consider, accept and introduce change. Developing and demonstrating adaptability positively correlate with leading opportunities that managers could obtain. Specifically, "people working with adaptable leaders have role models and guides to help them work through change in a productive, genuine way" (Gurvis and Calarco n. p.). Hence, the organization staff experiencing major changes is likely to express four behavioral patterns of reacting: overwhelmed, entrenched, poser, or learner. Taking the functions of a leader, it is necessary to conceive those patterns to adjust intervention strategies and help people adjust to the transition process (Bunker 15).
Critical Factors for Managing Change

Forces behind the management of change in an organization revolve around the existing organizational culture, learning culture in the organization, workers motivation and loyalty to the organization, and the management style of leadership so as to promote team work and participation rather than control of the organization employees. Before considering and introducing change to an organization, a number of critical factors should be considered to avoid problems in the future. To begin with, it is essential to evaluate social trends in understanding behavioral patterns. In this context, cultural diversity and background are leading factors affecting change management strategies. As a proof, Randall argues, "whatever belief groups hold in common lie with the individual and therefore it is with the individual that we rightly place our research endeavor" (121). Therefore, change management is closely associated with organizational culture and cultural sensitive affecting behavioral patterns in a company.
Apart from employees' behavior and organizational culture, the emphasis has to be placed on the external environment and its influence on change management in an organization. Indeed, implementing change is primarily based on the trends emerged outside it. According to Randall, transformational processes must rely on the change at an international level. At the same time, the internal processes can also affect the external environment (17). Most of these tendencies refer to the necessity of ongoing changes and their direct impact on organizational performance.
Finally, the choice of a business model is considered one of the most critical success factors while implementing change in an organization. As such, Dent supports the idea "people are invariable the critical factor in realizing economies of scale and giving them an informed role in achieving business improvements" (102). Therefore, before introducing a business plan, managers should carefully examine how this business plan influences the personnel. In fact, understanding the needs of an organization is possible through understanding the needs of its shareholders. At this point, the change management should take the shareholders' welfare into the deepest consideration. Overall, people, technological development and external environment are three main pillars contributing to the successful functioning of a business organization, as well as its ongoing sustainability.
Research Methodology

Role of Research Methodology

The given research will be based on a qualitative research method, which implies observing behaviors and perceptions grounded on the participants' answers. In this respect, the use of interviews will be the best method for estimating what success factors are the most appropriate for implementing change in Hult International Business School. By observing human behavior and analyzing their responses, it is possible to receive answers to the research questions (Myers 6). The use of the reviewed literature in analyzing answers is also helpful in managing the research.
Research Approach

In order to define the critical success factors for implementing change in the school, it is reasonable to refer to an inductive research approach, which implies resorting to observations for building concepts, generalized statements, and hypotheses. In such a way, it is also possible to develop a theory answering all research questions. According to Myers, "using inductive reasoning, a researcher starts 'bottom-up' and begin by collecting data about the topic" (23). Therefore, the main purpose of the research is to gather qualitative information on the perceptions and behavior of people towards change management as well as on how it affects ideological and philosophical perspectives of managing Hult International Business School.
With regard to the above-presented model, the proposed methodology will be aimed at finding empirical data that will further be classified in accordance with the established patterns. In their turn, the patterns will be evaluated to build up new ideas and concepts (Myers 6). Finally, a set of ideas and concepts united by logical conclusions will provide a basis for a new theory. In order to develop a specific framework, the research has defined certain patterns of behavior that point to a specific critical success factor. In particular, such factors as dynamics, cultural diversity, uncertainty, and social background will be the leading patterns to rely on.
Research Strategy

The paper is based on a case study of Hult International Business School as well as its practices in terms of global management and change strategy implementation. The attention was given to the school's mission and organization's goals as well as to educational programs involved into the curriculum. Additionally, assessment of managerial practices and academic programs helped define the major determinants of successful changes within an organization (Baxter and Jack 547). The influence of external factors was also vital to evaluate because it narrowed down the research practices. Finally, the process of change was analyzed from the approaches which the school managers employed to introduce changes to courses, curricula, and academic practices.
Additionally, the case study was descriptive because it focused on characterizing an intervention and linking to a real-life environment (Baxter and Jack 548). In this respect, it was appropriate to evaluate how Hult's managers implemented globally-oriented academic programs as well as how students were influenced by these programs. With regard to the research questions, the propositions were presented as follows:
Multiplicity, uncertainty, and organization's culture become success factors affecting change management in Hult International Business School;
Cultural diversity and social backgrounds of both teachers and students are considered the major challenges to implementing change;
Global expansion and meeting the needs of international students are two major conditions for contributing to change strategies in HIBS.
All these propositions were taken into consideration during interviews, observational studies, and analyzing participants' perceptions.
Data Collection Method

The interview questions were used for defining behavioral patterns and analyzing the participants' attitude to the researched issues. The interview method is useful in obtaining detailed information in relation to the workers' attitude to organization change. The interviews will assist in getting firsthand data and provide the enumerator with an opportunity to interact with the respondents and learn some facts through facial expressions and other gestures which may not be directly verbal. The questions were of open-ended type which implies that participants were not limited in their answers and observations. The questions were split into three groups: personal questions, experiential questions, and professional questions.
Interview questions

Group of personal questions:
What country did you come from?
How would you assess cultural diversity policy implemented in HULT?
How would you describe teachers' counseling? What is the most advantageous about counseling strategies? What is the most controversial about teaching strategies?
What is your attitude to action projects development at HIBS?
Group of experiential questions:
Describe your experience of taking an exam/participating in an academic program/communicating with an academic counselor.
What is your attitude to changes in terms of academic curriculum and disciplines development in HULT?
What are the main conditions for successful implementation of change?
Why do you believe change management is essential/not essential for international business schools?
How can Campus Global Rotation program contribute to understanding change management?
Group of professional questions:
How does HIBS Board treat cultural diversity issues? What cultural events are held in campus?
How do you think action projects can contribute to your professional growth and development?
Name at least three criteria of entering business international relations successfully.
How often do business school teachers introduce changes to their academic curriculum?
What disciplines do you prefer studying?
The answers received from the interviews were recorded and transcribed for further analysis of response patterns. Each interview was conducted individually to reach the highest level of objectivity and understand personal outlooks on change strategies implemented in HIBS. Students' perspectives on academic curriculums as well as on the pace of introducing change helped the researchers outline the critical success factors in implementing change. Apart from the interview questions presented above, examination of action projects and academic programs was also necessary to provide a comparative analysis of the participants' responses and the veritable goals pursued by the introduced programs. The official website of HIBS provided sufficient information on the research and created new dimensions for future explorations.
Sampling Method and Size for the Study

The sample of the study involved students of Hult International Business School from various departments and educational programs as well as from various locations. Specifically, 10 students were chosen from each of the destinations: Boston, San Francisco, London, Dubai, Shanghai, New York, and San Paolo. The choice of a sample was justified because observations in natural environments did not require large samples (Saunders, Lewis, and Thornhill 582). The choice of the sample was premised on the assumption that the participants' responses were compared and analyzed along with the qualitative information received from program overview and theoretical literature analysis.
Data Analysis and Findings

A total of 100 respondents including students and professionals answered the interview questions. All the answers received from the students were classified into three groups, similar to the classification of the interview questions. These groups involved personal, experiential, and professional aspects. A personal group of questions was analyzed with regard to such thematic nodes as division of students into ethnical and cultural groups, understanding of cultural diversity, and student's perception of change management (Saunders et al. 582). Experiential group of questions was evaluated on the basis of such themes as students' social background and their perception of academic programs and school projects. Finally, professional stance of questions analysis relied on such aspects as tackling a cultural diversity problem within the organization as well as development of new frameworks for arranging academic curricula.
Before proceeding with the analysis of the participants' responses to the interview questions, it is necessary to introduce a brief overview of Global Rotation Program and action projects that are usually held at HIBS. To begin with, Global Rotation Program provides students with a marvelous opportunity to explore various cultures, peoples, and backgrounds as well as expand their knowledge about cultural diversity. According to the program, students are allowed to choose any campus, including Boston, San Paolo, or Dubai and visit it first. After that, they can move to other destination to learn more about various economies and best business practices. Therefore, locating campuses in cities all over the world is a new strategic approach to implementing change (Hult International Business School). While analyzing students' experience, it has been discovered that geographical location is considered one of the critical success factors influencing positively the implementation of change. For instance, students who chose to move to San Paolo had a great possibility to gain a valuable experience.
A student moving to the city can gain information on natural wealth, employment rates, and entrepreneurial level in Brazil (Hult International Business School). The firsthand experience they received could contribute to their greater awareness of the necessity to implement change to the sphere of international business relations.
In addition to the Global Rotation Program, there is also an action project that allows students to participate in problem solving and decision making. Students are split into groups which are guided by mentors. The groups should take part in solving a specific business problem or thinking over successful strategies for leading companies. Action projects carried out by HIBS ensure that students can apply theoretical knowledge to a real business context, thus providing them with all opportunities for career promotion. Under the control of the counselor, students can also develop their own vision on business relations that can ensure their personal and professional growth. The team management also seeks to create insights about a specific business as well as identify new concepts and creative ideas through active brainstorming. Finally, participating in action project will allow students to build their own implementation plans and present them to the team leaders or senior executives of large international companies.
The overview of strategies, projects, and philosophies implemented in HIBS schools provides answers to certain research questions. To begin with, the analysis of organization's environment and academic strategies contributes to a deeper understanding of how effectively changes could be implemented. Moreover, it explains the major underpinnings and conditions for implementing change. Further, students who have a better idea of the steps of accepting organizational shifts in a business are more likely to enter a new business environment. Finally, understanding the leading mechanisms of decision making and problem solving is indispensable for students who plan to enter a global environment.
Based on the answers received from the interviews, the following assumptions should be highlighted. First of all, it should be stressed that students' attitude to cultural diversity is predominantly positive because travelling from one country to another implies sharing experience and exchanging ideas but not developing conflicts and misunderstanding. All these assumptions have been made irrespective of students' social status, degree program, and cultural affiliation. For instance, 45 out of 60 students responded that constant cooperation and experience exchange were two major factors contributing to successful change management. Second, while responding to a professional set of interview questions, the majority of students noted that trust, transparency, and equality were three major criteria for successful cooperation in a culturally diverse business environment. Such an assumption is supported in the studies by Grosse that discuss the importance of establishing appropriate communication patterns for developing trust and transparency in business relations (43). Additionally, the study also confirms the concepts of the research in terms of the necessity of exploring new patterns of communication in various cultural contexts.
Conclusions and Findings

Cross examinations of the findings and theoretical findings show that, in order to manage change in an organization, one requires more than organizational control. Management aspects such as appreciation of value of technology in restricting an organization are in line with findings in other studies. For example, according to Randall, transformational processes must rely on the change at an international level. At the same time, the internal processes can also affect the external environment. From the study findings it is also clear that, the introduction of exchange programs in the institution will go far to change the perception of thinking among international students.
From the study, it is clear that constant communication and interaction sessions will foster organization's spirit to change. Establishment of a spirit of team work .The main purpose of the research is to discover the critical success factors of change strategies in Hult International Business School. The qualitative analysis of the case study through interview questions has revealed that such aspects as proper cultural diversity management, trustful and transparent relations among the students and staff, strict control of dynamics, and identification of uncertainty level are major critical factors of successful implementation of change. These assumptions also require considering the external stakeholders influencing strategic and ideological changes in HIBS, such as economic and political factors. In particular, the analysis of new global trends in various countries as well as the possibility to travel from school destination to another one permit students to share experience and learn more about various cultures. The fact that the school is located in major cultural cities of the world, such as New York, London, San Paolo, Dubai, and Shanghai, learners all over the world can accommodate quickly to all cultural and economic changes. More importantly, perceiving new environments allows students to acquire knowledge on such aspects as political trends, economic structure, and historical background. This practical knowledge can significantly enrich students' awareness and experience in international business relations.
Recommendations

In order to promote multicultural cooperation, it is reasonable to create programs in other regions of the world to encourage the development of new communication channels. Indeed, establishing communication with other countries, particularly those who belong to the developing world will appear highly beneficial. Most of these integration mechanisms will allow students to overcome challenges of cross-cultural communication and work out new strategies of coping with existing stereotypes. Additionally, it is sensible to recognize the benefits of face-to-face interaction that increases understanding between different cultures. The perspective presents not only new stances for gaining knowledge in business relations but also expands new areas of influence in the global community.
It is also prudent for the organization to embrace teamwork and workers participation in coming up with the solutions in relation to the problems facing the organization. This will increase chances of acceptance of the proposals as the workers will feel accepted and appreciated by the top management in regard to the formulation of organizational policy.
Limitations of the Study

A small sample was used in the study and this may not represent the general ideas of all students and the entire population of the Hult School. The use of the interview method of data collection may be an ineffective tool as sometimes it is the respondent who will choose the person that he/she will interview. There is sometimes organizational reluctance to give confidential information as this is seen by the management as failure to address some organizational challenges. The sampling of the respondents was not random and this may mean biased information for generalization by the researcher and drawing of biased conclusions.
---
Go to our Order Page if you want to buy essay help on this or any other topic.

<![if IE]> <![endif]>