Apple Store Analysis

Research

Apple Store is a network of retail stores, placed in the shopping area, owned by Apple. It sells computers Macintosh, OSX and other software for this platform, IPod, IPhone, IPad, as well as other Apple products and accessories of third-party manufacturers for the company. The stores provide the opportunity to receive technical advice from experts in the format Genius Bar – a special section set aside for free advice and technical support. All work is done by "geniuses" – specially trained employees of the company Apple. The Apple Store corporate mission is to focus on what users are doing: listening to music, watching movies, and other similar tasks (Blodget).
The idea to open the first retail store Apple came to Steve Jobs in 1999. However, it was a difficult task. Many companies had already managed to get a very negative experience in the development of their own networks of retail stores. Jobs did not want to repeat mistakes and he went another way. First, he accepted Millard Drexler to the board of directors, the man who owned the highly successful network of fashion stores Gap. Jobs also hired Ron Johnson, a successful businessman, who was the reason of success for Target's retail network. It was he who had advised Jobs to develop his own unique concept, and then to take any steps. The creation of the first concept required about six months. However, it was rejected. The fact is that the established concept implied the division into sections of products, while Johnson insisted on the separation of concepts – computers, music goods, accessories, and so on. As a result, Jobs admitted that he was right. As a result of these delays, the first store was opened on 19 May 2001 in McLean, Virginia. On the same day, the second store was opened in Glendale, California. In the first weekend, the stores were visited by 7700 people who made a purchase in the amount of 600,000 dollars (Stonington). Every detail of the stores' design was developed with the participation of designers and affirmed by Jobs personally. He did not leave without attention even the design of switches and sockets. Metal, glass, wood and minimalism – is the spirit of the Apple Store.
The analysts unanimously predicted Apple a big failure in this attempt. In their opinion, the company got involved in a losing business and in a few years would have to give it up after suffering heavy losses. However, as time passed, the Apple Store only became more and more popular. Therefore, after 3 years they were visited by about 5,500 people every week. Today, this figure has increased by almost 3 times (Stonington).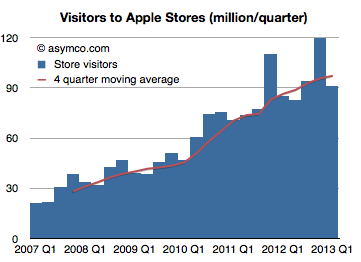 Success in the USA allowed opening the first Apple Store in Europe – in London. The shop appeared there in 2004, in November. Today, only in the UK, there are 37 stores. The total number reached 424. In the USA, there are 254 of them, and the most famous store located at 5th Avenue has already become one of the most visited tourist attractions. The Apple Store has long been among the most successful retail networks in making profit from each square meter, surpassing the legendary shops of Tiffany & Co greatly. At the same time, simple retailers of Apple technology have started to leave the market (Stonington).
The U.S. malls with the Apple Stores generate 10% more in sales-per-square foot than those without one (Wahba "Apple Extends Lead"). That, in turn, gives Apple clout with landlords to pay rent equivalent to 2% of sales, much lower than is standard, according to The Wall Street Journal (Kapner).
Apple had a great holiday quarter of the early 2015, and the sales in the USA increased "by 22% to $26 billion" (Wahba "Apple Extends Lead"). The new iPhone 6 fueled Apple's popularity, giving it the lead over its competitors and the stores generated "$4,798.82 in sales per square foot on annualized basis at the end of 2014" (Wahba "Apple Extends Lead"). In 2014, Apple had sales of $4,551, while Tiffany & Co, that rivals Apple in selling luxury items, had "sales of $3,132.20 per square foot" (Wahba "Apple Extends Lead"). As Wahba states, "As a point of comparison, department stores such as J.C. Penney and Macy's generate $160 to $200 per square foot — although, aisles and aisles of low-priced clothes and towels are less of a draw than highly coveted electronics" ("Apple Extends Lead").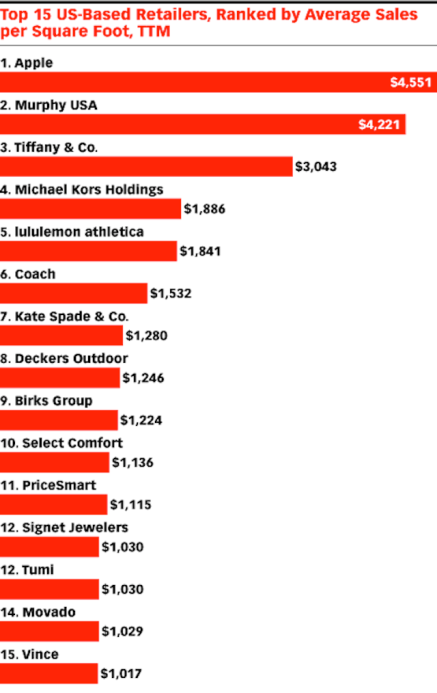 People visit the Apple Stores not only for shopping but also for the emotions that on other retailer in the world is able to provide. People can get expert advice, they can come with children who can play at the children's table, and people can find any kind of content on the web, check e-mails, and so on. When Apple Store was launched, only 3% of Americans had broadband access to the net. It is a place where people are able to try the Mac to real problems (Stonington). Nowadays, the Apple Store brings Apple huge profits. It has near 45,000 visitors on average per week. It has $ 10,000 billion in revenue per quarter, near $ 25,000 million average revenue per store in the quarter, near 20% share of Apple's total revenue in the quarter (Chowdhry).
The Apple Store has numerous strategies to encourage both buyers and sellers. For example, students may receive a gift card for $50 when buying iPhones in the Apple Stores. They have such promotions and offers as modern headphones free with a purchase of a particular item, as well as free shipping and different sales. The same promotions are available in the Apple Store Online. Each retail store of Apple is an open showroom, where visitors can be acquainted closely with the company's products that get customers' attention. In one of the stores, they made a broken glass wall to attract attention to new IPod. Apple has organized an exchange of old IPhones for new ones in some Apple stores in the USA. Apple also provides interesting and modern video online about products online. The chain of examples can be very long (Melby).
SWOT Analysis

Apple Store Internal Strengths

Every Apple Store carries the full line of Apple products, including certified third-party software. Each Store reaches near 6,500 consumers every day. The company assures high-quality customer experience. The Apple Stores are the most profit-making stores in terms of sales volume. Customers can easily get free technical support in the format Genius Bar. They can get broadband access to the internet, and they can become acquainted closely with the company's products. The services are provided only by experts. The customers can be sure in originality of products, that they are not fake. In every Apple Store, customers can get additional sales or gifts. Children can play at the children's table. Every Store is an artwork and a tourists' attraction. The company has strong marketing in the stores.
Apple Store Internal Weaknesses

Among the weaknesses, one can name high degree of noise, too many people, and a disturbing environment in the Apple Stores. Other weaknesses include much higher prices on items in stores in other countries than the USA and much higher prices than those on the similar items of other brands as well as different time of appearance in stores in different countries. Items are updated frequently, and many models of both phones and laptops become obsolete after only a few years. Tourists can have no wish to purchase larger, more costly products as airline baggage and carry-on payments may apply costing an extra 25-40 dollars at numerous airline companies, which can also be considered a weakness.
Apple Store External Opportunities

The new iPhones have been purchased by over 9 million consumers during the first weekend of their releases. The iTunes store is always available for consumers to purchase new music, software, and games. The prices of these products are not raised. Among the opportunities one can name increasing the capabilities of the iCloud storage system that caters to twice as many people as Google Drive and focusing on the development of mobile devices expands Apple Stores' share of this growing market. For mobile phones alone, the iPhone holds at least 20% of the market. The new trade-in project at Apple can increase phone sales as clients can trade-in a utilized iPhone and make as much as $250 in store credit for a newer model.
Apple Store External Threats

Many other retail stores selling Apple products or similar products usually in the same area can be considered an external threat for the Apple store. Any global or local economic change can affect and threaten both Apple Stores' ability to sell and people's ability to buy. Increasing the amount of tourists will make more noise. Android OS is a main rival for iOS on the mobile phone market. The supremacy of Android reduces the power iOS over influencing consumers to attach oneself to Apple. The Apple Stores earned more than a half of its incomes from outside the USA. Dollar's high rate against other currencies decreases possible gains from other countries.
Omni-Channel Analysis

Omni-channel is the approach, principles of which are the integrity and consistency of the user experience. Its main advantage is that users are free to switch between the channels, for example, a mobile device, laptop computer, social networks and off-line shop. By implementing this approach, the company does not lose customer information that allows saving a personalized approach to the customer and collect reliable base of customers/buyers. The client gets the opportunity to access all the products and services in the most convenient way, while constantly remaining in the sight of the company. This approach can be used when there are two or more channels of communication with customers. These channels include terminal services, sites, off-point, mobile applications, ATMs, social networks, emails, and more (Boulton).
Apple enlarges their e-commerce platforms maintaining the point of view that omni-channel retailing is the strategy most likely to reach success. It is the offline store, however, that will not only get through, but also will more and more become the pivot of the omni-channel world. It is for the reason that the store can be an exceptional emporium that proposes space and place to assist people in making a choice among endless possibilities.
The gold standard in omni-channel shopping is the Apple Store that has integrated in-store and online shopping for years. Not only can the Apple Store employees check out customers from anywhere in the store using iPhones as registers, but customers also can pay right from their iPhones with the scan of a fingerprint using Apple Pay. Customers interested in the new Apple Watch can compare models on their desktop or mobile device, set up an appointment to try on various models with an Apple Store Concierge, and then buy it in-store or order a custom model online from inside the store (Boulton).
Apple's innovative hardware and software productions give omni-channel gadgets for other retailers. The iBeacon and Apple Pay assist retailers in capitalizing on in-store buying with the help of electronic gadgets. Apple's iBeacon, a location-based gadget, increases a customer's in-store practice by activating vouchers, special offers, prompts, and assist in shopper's approaching an iBeacon. Apple Pay assists in completing the transaction by linking mobile phones with point-of-sale gadgets for an effective check-out process (Boulton).
Another example of omni-channel strategy is an AppleTV. The user begins watching a video on one device and can continue watching it on another. All of this helps to achieve a customer-centric experience, to save a personalized approach to the customer, and to collect reliable base of customers.
A Key Competitor

The key competitor of Apple's retail stores is Best Buy. Best Buy is an American company and the largest retailer of consumer home electronics on the US market and Canada. IPhone sales through the retail network of Best Buy are roughly equal to sales of devices through its own retail network of Apple. The number of Best Buy stores is significantly different from that of Apple. In the USA, Best Buy has more than 600 outlets, and in the world, the company has more than 1,100 objects (Wahba "Best Buy Deepens"). For comparison, Apple has only 424 points of sale worldwide. In this situation, not only benefit of Apple over retailers can be stated, but also a significant success of the latter (Wahba "Best Buy Deepens").
Now, Best Buy holds its own place in conditions of strong rivalry from Apple. After being injured by "showrooming" (where people check out items in a store, then go online for a reduced price), the retailer has educated its customer spokespersons to compete with Apple's famed customer service. As a result, when customers visit Best Buy to "play" with the products, its well-educated spokespersons are able to close the deal.
Nowadays, Best Buy brags an Analyst Revision Model (ARM) result of 99, which places it at the apex of the top deciles of all American companies in the ARM. The higher a company's ARM, the more recognized analysts have been raising their profits predictions and the greater the probability that they will carry on to do so.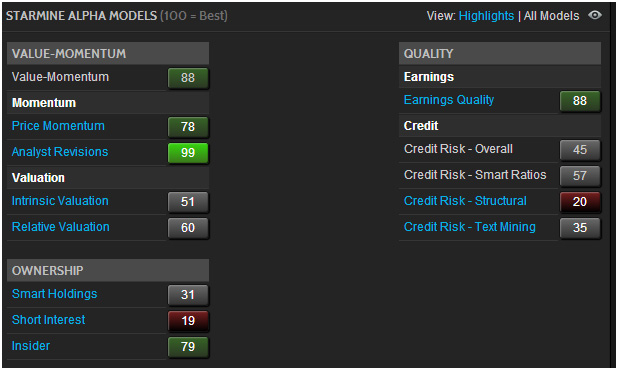 Analysts also like the new management team. They have produced positive results regardless a poor consumer spending surrounding. They announced a near-flat Same Store Sales amount, a melioration from the negative collation in the earlier quarters, which analysts consider acquits the stock price. Analysts are also positive about Best Buy's business model entering the holiday season. The company establishes a shop-within-a-shop conception for Windows and Samsung items (Apple rivals).
The new-made video consoles will also be established and realized at Best Buy. The company's "purchase online and get from store" service has been a big achievement, and analysts consider that because of management's high ingenuities, the retailer will carry on in reaching success in the holiday season.
Best Buy sells approximately the same amount of IPhones as the Apple stores, but Apple remains more profitable. That is why they try to be like Apple. Lately, Best Buy has opened up some test stores that have a smother feel, less products on display, and a new-made help desk behind that looks strikingly indistinguishable from the Genius Bar. While these stores are just antetypes, Best Buy has noticed they are only the beginning of the company's "catch-up" move, suggesting that there will be more of these stores going forward. Best Buy begins to figure out what Steve Jobs knew in 2001, that people wish something more than just a store. They wish a place where they can feel good and learn new things.
Apple has created more than a million products acquired for free by people in the Apple Store. Reminiscent of something like that is in Best Buy, but the fact that such measures have a good influence on the perception of the company by customers should be accepted. In the future, one can expect active development of services with an individual approach to each customer and to improvement relationships between the company and customer in Best Buy and Apple Store.
Earlier, the Apple Store has never made discounts on its products, except for the Black Friday. Best Buy has always made significant discounts. To stay competitive, the Apple Store provides sales and promotions now.
Best Buy uses an omni-channel strategy similar to the Apple Store. One easy step Best Buy had made was to add a "Store Pickup" window to its online shop. The company also made the online and mobile channels, a precedence for investing and innovation. After that, Best Buy has established a technology development center in Seattle to maintain its e-commerce platform and mobile user practice. In addition to its internal technology modernization, Best Buy also makes investments in its capability to answer the waves in the consumer electronics product cycle. Nowadays, stores are turned into distribution centers, and 40 percent of shoppers on Bestbuy.com have chosen the option to pick up their purchases in stores.
Therefore, Apple's and Best Buy's stores are quite similar as Best Buy tries to look like Apple. They have even the same omni-channel strategies. Nevertheless, Best Buy tries to make something of its own as a shop-within-a-shop conception and video consoles.
Despite all, the Apple Store stays unique with the launched tendency towards more open, laconic retail stores with a sense of space and items that can essentially be turned on and played with. It is a big revolution in retailing. In fact, even in traditional retail stores like Best Buy, Apple gets their own unit. Part of this is Apple's doing but it is also for the reason that Best Buy is aware how high in demand Apple items are and they want to move boxes.
Recommendations

Apple, which was named the world's most expensive brand by overthrowing Coca-Cola from its first place, has higher-ranking store sales per square foot than any other retailer on the planet. It is unique, every store looks like the artwork, and even key competitors cannot reach the success of the Apple Store, always trying to steal the ideas from it. Still, there are always some strategies and recommendations to improve, and the Apple Store is not the exception.
Short Term Strategy

Apple stores have to focus even more effort on product training. Any Apple store should be the place every single question a customer has about a product can be answered by as wide a range of the team as possible to as wide an audience as possible. Focus should also be on even more in-store training and support systems so customers are to get the very best out of their purchase, this is the Apple stores USP and the reason people love to shop there over just clicking "buy it now" on a web page. It is not a costly and aggressive strategy.
Another problem that has to be solved in short terms is that accessories and chargers to Apple products break frequently. Moreover, it is Apple's fault. Therefore, it will be good for the Apple Stores to provide free exchanging of broken accessories and chargers for new ones. This a bit aggressive strategy requires significant investments, but in perspective, it will attract new customers and profits.
Intermediate Term Strategy

Apple's method of "overbooking" appointments is a serious problem. They assume there to be a 30% no show rate, and so book 130% appointments. Therefore, even if 30% of customers do not show up there is still a 100% of full appointments. This just does not work. One cannot rely on 30% of people not showing up. Another factor is that Apple only allows 10 minutes for an iPhone appointment and 15 minutes for a MAC appointment. This is also unrealistic as most, if not all appointments, can take 15-20 minutes, depending on the issue (Fishwick). The delays build up throughout the day and it gives the customers a poor experience. Another aspect of this overbooking system is that it puts the very dedicated staff under undue pressure as they try to work faster and harder to keep the customers happy. This increases the stress levels for all concerned, in particular, the staff who have to live with this unnecessary pressure day after day. Apple should think again about this method of conducting their business. It does not look good from the outside. This, and the adverse publicity about the compulsory work placements at the Chinese Foxconn factory, can do their image no good at all. They need to change their attitude, be more compassionate and feeling towards their staff and less greedy for a profit at all costs. This conservative strategy is not costly.
Long Term Strategy

Another problem to be solved is that Apple products appear much later in the Apple Stores in other countries then the USA. It causes that customers buy Apple products in other places. If the products appear approximately at the same time, the Apple Stores will earn additional profits. This can be done only with the release of new products, so it is a long-term aggressive strategy, but it does not require some extra investments.

<![if IE]> <![endif]>