10 Main Qualities Employers Look for When They Are Hiring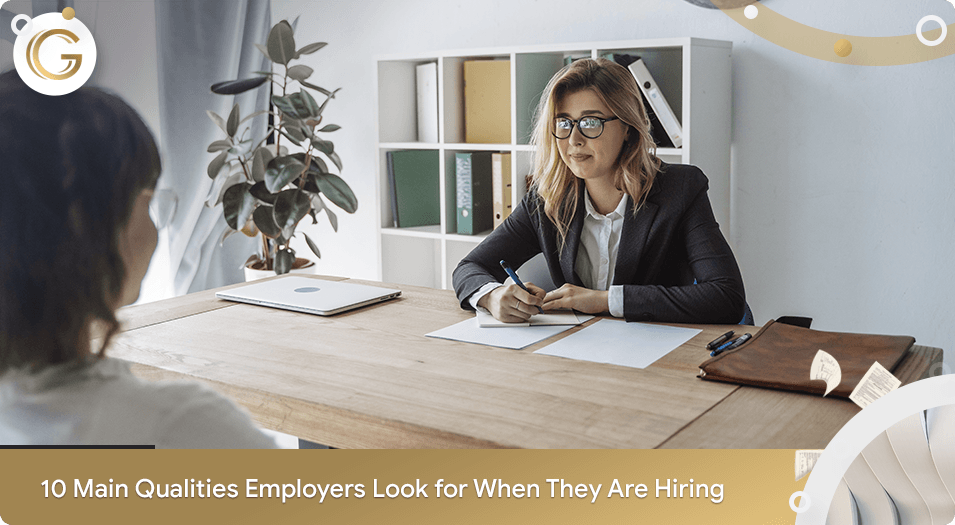 It is impossible to meet expectations of a prospective employer without knowing the most probable traits they are looking for while hiring a new employee.
Check this list of top 10 personal and professional qualities and make sure to mention them during your job interview:

Good communication skills
This quality ensures a person's ability to communicate at different levels, for instance, when interacting with other people, during verbal communication, and when expressing the thoughts in writing.
Strong team-player
This skill presumes to work in a group effectively, being able to support other members of the team, assist, divide responsibilities, and overcome challenges.
Remarkable leadership skills
This trait is important because it demonstrates a person's ability to take responsibility in case of failure and motivate others to move towards a common goal. It also means that the person is able to make decisions and lead others.
Attention to detail
This quality means that a person is able to notice small details that may have a negative impact on the overall result if left unnoticed. An employee who is careful about details always notices small spelling mistakes, incorrect sentence structures, minor flaws in the design of a project, etc.
Growing enthusiasm
An employer with personal drive and enthusiasm is always eager to start new work-related tasks and finish them with excellence. Enthusiastic employees do not need to be reminded to finish the task on time. Instead, they work fast and look forward to receive other work-related tasks.
Considerable initiative
This quality defines a person who is a starter rather than a follower. The employee is also able to come up with appropriate decisions and implement them into life.
Organizational and management skills
Mismanagement often becomes the reason for different tasks failures. On the contrary, a person who manages time and work resources effectively is often a successful employee.
Ability to meet deadlines and work under pressure
Although different positions involve various levels of stress, employers who can easily work under pressure and handle tough deadlines are always valued. This demonstrates a person's ability to show good result despite the stress experienced while performing the task.
Quick learner
Every job involves qualifications that a candidate does not have. However, if he/she is able to learn quickly, this personal trait will become the major advantage.
Flexibility
A person's ability to adapt and handle difficult situations in any circumstances is certainly a valuable trait.
If you highlight these qualities in your resume, they will definitely become your major advantage. Impress the prospective employer with your personal and professional traits and get better chances to be employed.